---
THE BEGINNING
---
It all started in high school...passing each other in the hallways (and kind of trying to avoid one another because we made each other nervous). I used to sneak into the bathroom in-between classes to take a quick look in the mirror to powder my face, throw on some shimmery pink Revlon lipgloss and brush my hair before I knew I'd pass him. I was a junior and he was a senior, and it was the beginning of the Spring Semester. This all happened before we knew we were falling in love but let's take a few steps back real quick:
- My mom didn't allow me to date until I turned 16. I never had a boyfriend ever, not even behind her back.
- I was on drill team and was selected to be part of the swing dance section for our annual Spring Show. I obviously needed a partner. So...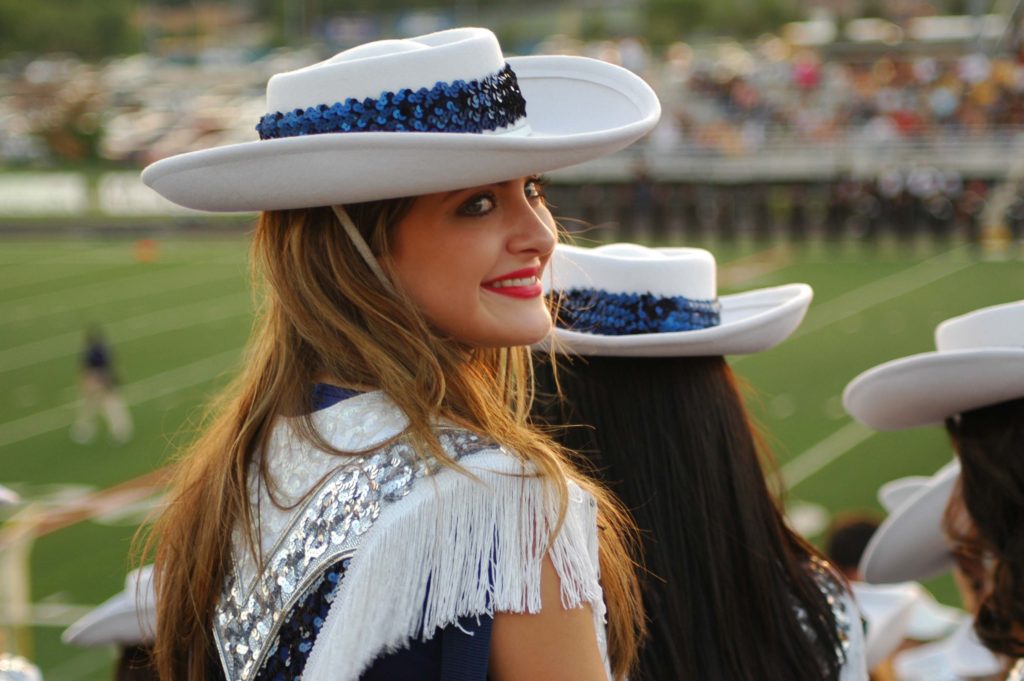 I had asked a few guys and they said no. I remember feeling defeated and talking to my mom about it one day and she was like "Oooh that guy Chris is cute" and she encouraged me to ask. "You won't know if you don't try." I mean I had asked not one, but two guys already so I was really hoping that the whole "third time's a charm" rule would be in my favor this go-round.
He was one of the drill team escort guys so I had seen him at football games and we had talked a few times... but that's about it. Side note: If you are from the South and are familiar with drill team then you probably know what the term escort means. On drill team, we had escorts that were essentially guys who would help assist with props on the football field and in our annual Spring Show. They would escort us to the restroom during football games and on and off the field before and after the halftime performance.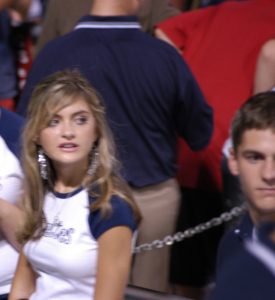 One fine Spring day right before 4th period, I skipped into the bathroom to fix up real quick. Girl's gotta look good. I was on a mission and had to be fast so that I could ask Chris before he headed to wrestling and I headed to drill team. I caught him while he was walking down to the (horribly smelly) wrestling room and asked him if he'd like to be my dance partner for the show. All of his wrestling friends were around and it was awkward [t u r t l e]. I wish you could've seen his face. The best description I can give you is the excitement that you see on a kid's face at Christmas… obviously, he said yes. The guys cheered and carried on and it was actually pretty adorable.
I thought Chris was cute, knew he was kind (and to this day, THE nicest human I've ever met. He seriously has the SWEETEST heart), but I also knew that he had only 3 months left of school before he was going to leave for college. I was unsure of getting into a relationship with someone who was about to leave (and be in COLLEGE with all the pretty college girls - haha, my thought process back then), and also because I was interested in a few other guys at the time.
Dance practice was challenging because we had a few stunts that neither of us were comfortable with executing. The swing dancing part was fun but the actual flips were hmm...well...he dropped me on my head a few times and we truthfully sucked at it compared to the other couples which just required us to spend more time together. We worked well together and eventually got it down. I could tell he was into me and I started to like him. Like, like him like him. So he asked me out on a date. It was my turn to say yes this time.
---
FEBRUARY 16, 2007
---
Our first date was two days AFTER Valentine's Day. I always like to give him a hard time about that but the truth is, back then Valentine's Day fell on a school night so we had to wait until Friday to go out. Parent's rules.
He took me to a cute little Pizzeria that I had somehow never been to before and I fell in love. With the pizza first. And then him (at some point down the line 😉 )
I don't remember what we talked about or what we wore, but I do remember how great our conversation was and the connection we made. I remember feeling like I really, really liked this guy and how it felt like we had known each other for a really long time.
F e b r u a r y  1 6 ,  2 0 0 7  was the furthest from plain or cheesy, considering that's the kind of pizza he had that night, and we still celebrate this day each year, nearly 12 years later, usually eating pizza.
Practice makes perfect. We had continued to practice and up until the show finally came around, we had stayed in touch on the phone (for HOURS) and in the school hallways, but we didn't go on any more dates. We made each other nervous and we both secretly knew that we liked one another. Leading up to the show, I had lot of practice so it was difficult to try to go on dates. Chris was also in wrestling season and had tournaments a few nights each week.
We both kind of felt like we wanted to continue dating each other but neither of us had made a move.
---
YOU AND ME
---
On the first night of Spring Show, right before Chris and I would perform on stage, I started to get really nervous. I remember he sweetly put his arm around me and said "It's just you and me" and it's a moment I'll never forget. I instantly became comforted and we both felt an instant spark in that moment. "You and me" is actually engraved in his wedding band. It was a little surprise from me to him on our wedding day.
Those 3 words are what we have held onto in moments of our relationship and marriage when we go through trials. We always go back to this simple statement & it's our way to remember that regardless of all the noise around us, our foundation is built on the two of us with God at the center. We have been through so much together and we have learned that having the right perspective helps so much. Through every hardship we have grown closer and as we have gotten older, we have a clear vision for what we allow to impact us. Boundaries are SO important. Love each other hard and nourish your relationship. We are huge believers in date night. Okay now I'm getting carried away. Marriage post coming soon.
The night of the last show, I had made him chocolate chip cookies (probably Nestle Toll House peel-and-bakes because you can't really mess those up) and a handwritten note. Mama taught me well. I remember feeling sad because I didn't know if we were going to see each other much more beyond this, especially since he was about to graduate and then leave for college. Hence the sweet gestures - I was trying to drop major hints.
He had given me some flowers that night and we had talked after the show about how we both wanted to continue this thing we had going.
It was maybe around date 3 or 4 when we kissed. It was my first kiss ever. We were sitting in his car and he did that whole arm stretch reach around thing but I pulled away. Pulled  a w a y.  He walked me up to the door and he tried again. Well that didn't take long. Mission accomplished. He kissed me and I kissed him back. I didn't know what the heck I was doing, but he taught me everything I needed to know about that as time went on. I remember opening the front door and rushing in because "oh my gosh he just kissed me" and I ran straight to my room so my parents wouldn't find out :O I don't think I could have handled my parents seeing the smitten look on my face... they would have known. I think parents have a sixth sense for this stuff.
We attended his prom and dated the rest of the school year and spent every single day of the summer together. These were the best days. Also - I should mention, our homes were about a 5 minute drive apart. How cool is that.
Getting in trouble for staying out too late, taking forever to kiss each other goodnight, pool days, Chipotle runs, Blockbuster movie nights, dinner dates, spending too much at Marble Slab (worth it), goofing around at each other's houses with nerf guns, playing hide and seek with my parent's dog Bailey (she really did know how to play), basketball in the driveway, bike rides through the trails, hiking around the lake, and all the fun things you do in the summer. We became the best of friends who had all the butterflies and googly eyes for one another. We were inseparable.
Summer came to an end and he left for college as I started my senior year of high school. I cried my eyes out when we said "goodbye for now" and we probably shared the longest hug that either of us has ever had until that day. Chris says we hugged for an hour. I say it was more like 30 minutes.
---
LONG DISTANCE
---
He attended Texas A&M which was about 3 ½ hours south of DFW and was in the Corps of Cadets. If you know, then you know. His schedule was extremely busy, he didn't have a car his Freshman year...so seeing each other in person was a rare occurrence. Even though I missed him so incredibly much, I was thankful to have time with my girlfriends as we went through our last year of High School together.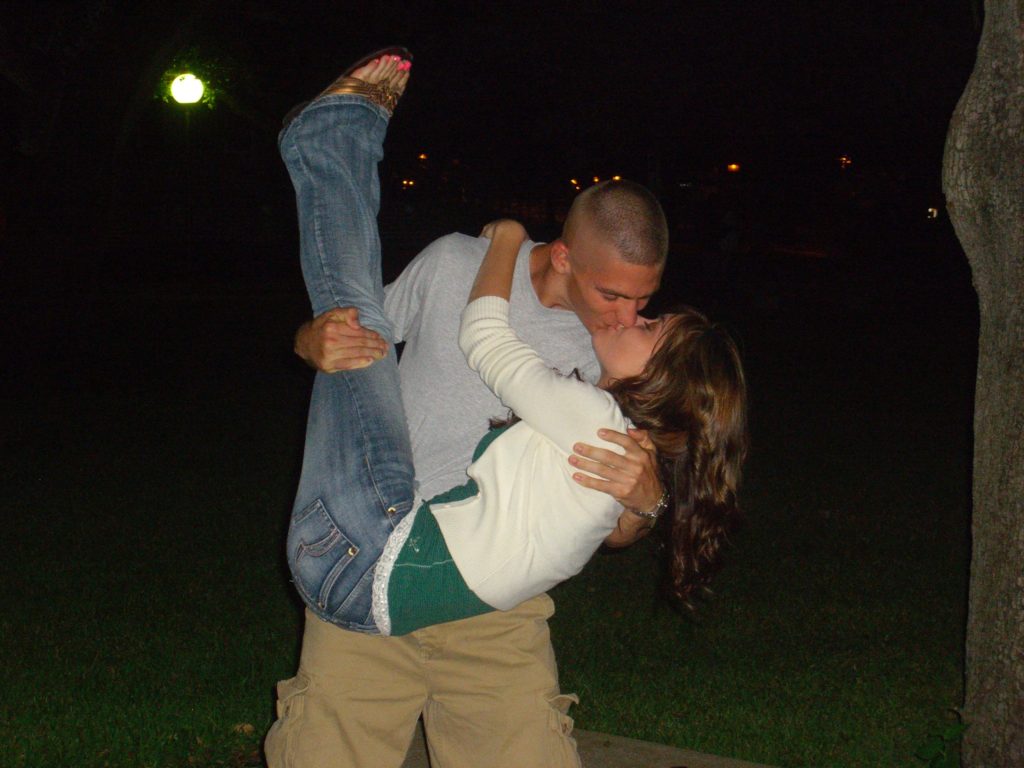 I would make my grandmother's homemade banana bread and ship it to his mailbox a couple times a semester. It was and still is his favorite. There were a few occasions where I would travel with his parents to visit Chris on a game day. This is where I fell in love with Texas A&M.
Back then, cell phones weren't what they are nowadays. People didn't use them as much and social media was still very much so a baby. Myspace was around if you remember that. We didn't really text at all, and we could only talk on the phone maybe once (twice if we were lucky) because of the strictness of the Corps on the 'Fish'. Get this: we would EMAIL to stay in touch most of time. So grown up of us. Long distance was not easy, but we made it through.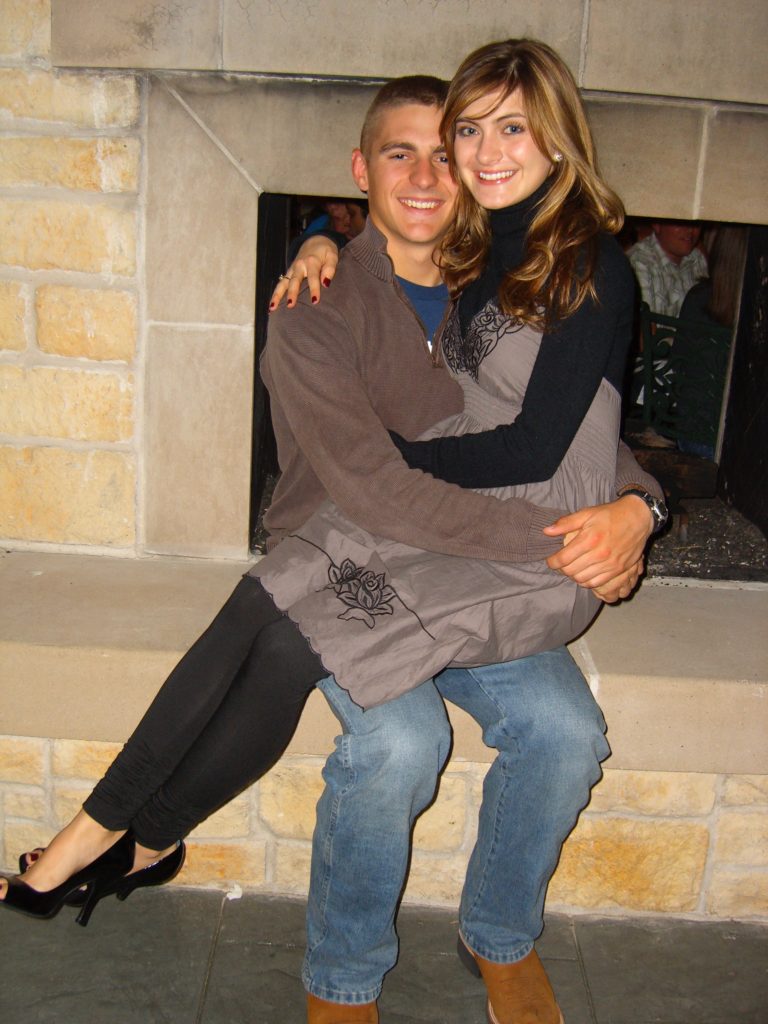 Fa la la la la la la la la!! Christmas break was the BEST because he was home for a whole month during the best time of year!
We had one little hiccup in our relationship and it was right before he was about to come home for the summer. You know the ones where you break up for a day and get back together the next. I think the distance had taken its toll but we both came to the realization that we didn't want it to be over. Insert Notebook quote: "It wasn't over. It still isn't over."
Summer No. 2 was just as good as the last. We had the fun of getting ready for college life together. We worked summer jobs - he was a lifeguard and I worked at Chili's. We were a little more busy this summer but still spent all of our free time together when we weren't working.
---
COLLEGE LOVE
---
I was so excited for college but I distinctly remember crying my eyes out when my parents dropped me off after helping me move into my apartment. Chris was there too, and I cried on his shoulder as my family drove away. That night, we walked around the apartment complex and sat down by the pool. This was the first time he told me that he loved me. Mascara running down my face and all. I always knew in my heart that I loved him, and it felt great being able to express our feelings in that way to one another. Mama always told me to let the man say it first, and I'm so glad I did.
From then on, college was amazing. We had so much fun with all of the Aggie traditions and experiencing all that College Station had to offer. Midnight Yell, football games, tailgating, Hungry Howies, $3 movie ticket dates (those were legit), Frozen Yogurt (when it became a thing) several times a week, late night Starbucks runs, walking around campus, pulling all nighters, & puppy store dates because we so desperately missed ours back at home.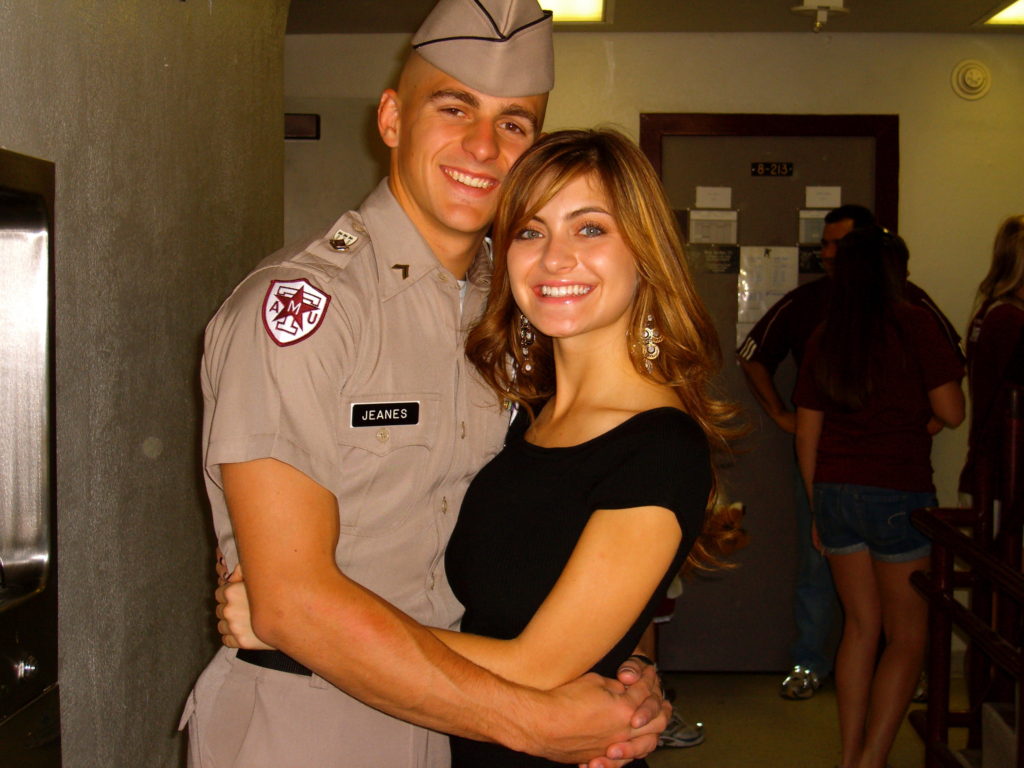 ---
HE PUT A RING ON IT
---
Totally caught me by surprise and had no idea. It was Parent's Weekend, towards the end of my SOPHOMORE year, his Junior year (yeah, told ya I had NO clue he'd do it this early). It was also his Aggie Ring weekend and we also had a Corps Banquet that we were attending that Saturday evening. A lot was going on that weekend. Both of our parents were in town and we went out to Ninfa's Mexican Restaurant together and attended his ring ceremony that Friday.
Saturday rolled around and he said that he had to help set up for the banquet that night. (He convinced me, ha!) Both our parents & I ventured around campus for the day.
That afternoon, I wanted to bring my family to the beautiful garden area behind the Bush School. It's our favorite place on campus, especially in the Springtime. Just think: roses everywhere. They have several rows of arches COVERED in ROSES.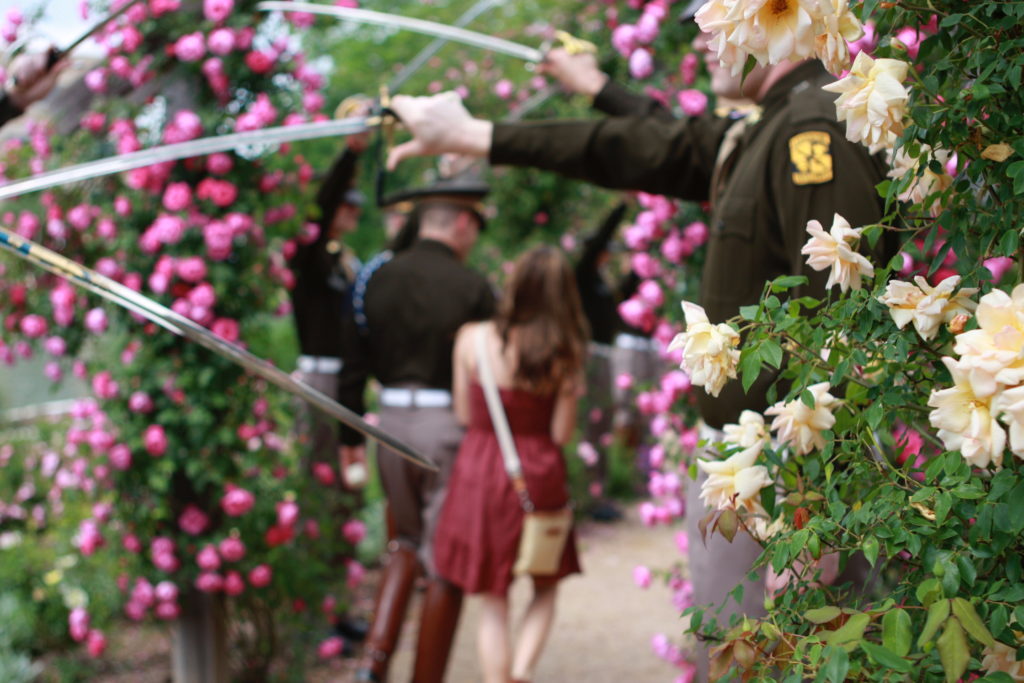 I remember fixating on this one unique blue flower and noticing that my dad had his camera out as well as his mom. And then all of a sudden, I heard the marching of the Cadets and thought I was in the way of something because I could tell they were headed in my direction. I backed up and my dad urged me to stay put and the next breath I began to take, I see them all lining up outside of the gazebo.
Within a few seconds I noticed Chris walking through and in that moment I knew what was happening. I felt weak in the knees and couldn't believe it. I looked around and noticed that our friends were popping out of the bushes! They were hiding in them in an effort to not give anything away.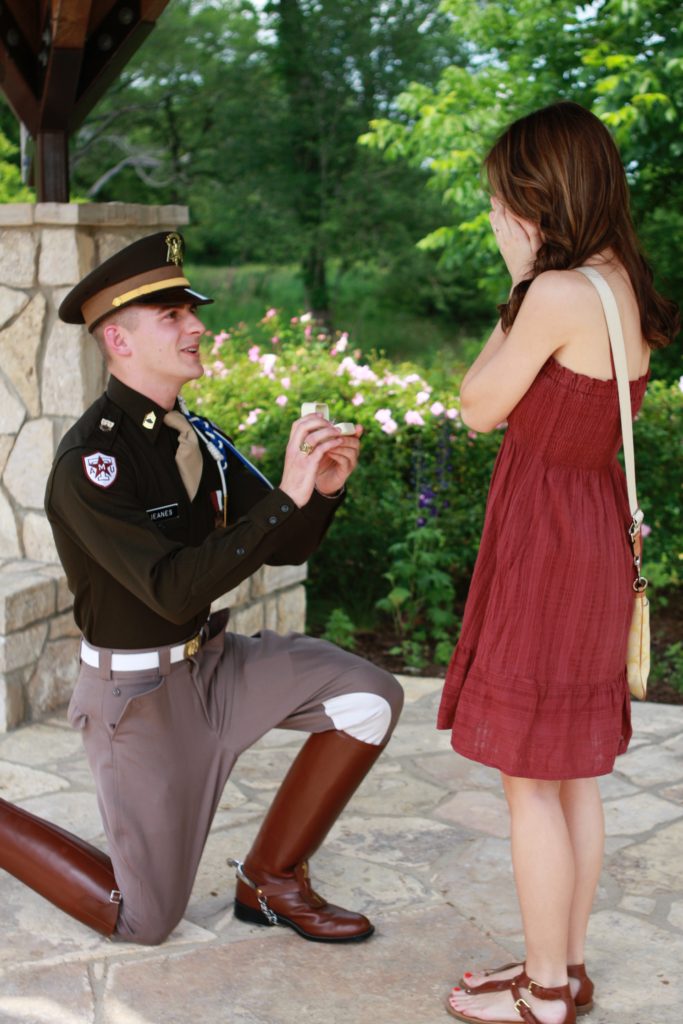 He asked me to marry him and I said YES <3 It was the sweetest day.
Fast forward to college graduation…Chris was a year ahead of me school wise. When he changed his major, we ended up getting to graduate in the same class! Class of '12! WHOOP!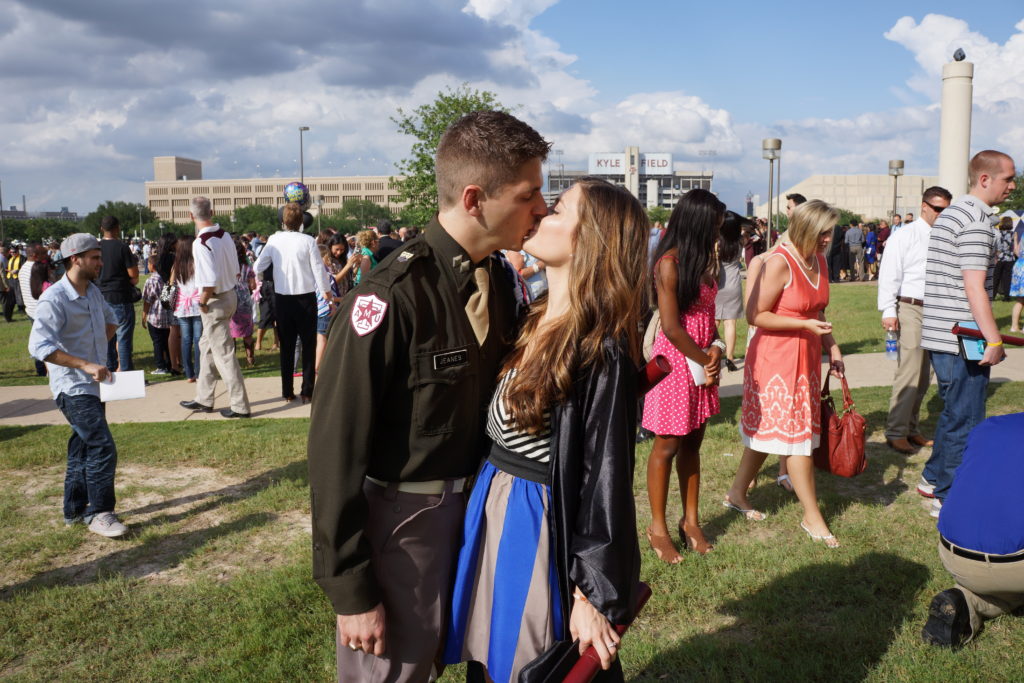 Once we graduated, we spent the next few months planning our wedding. Talk about busy!! Try planning a wedding in a few months. It's totally doable but goodness! Even though we had a long engagement, we saved basically all of the wedding planning for after college. We made it official on August 18, 2012 and it was the best day. One of these days I'll share some of our favorite photos in a blog post for y'all.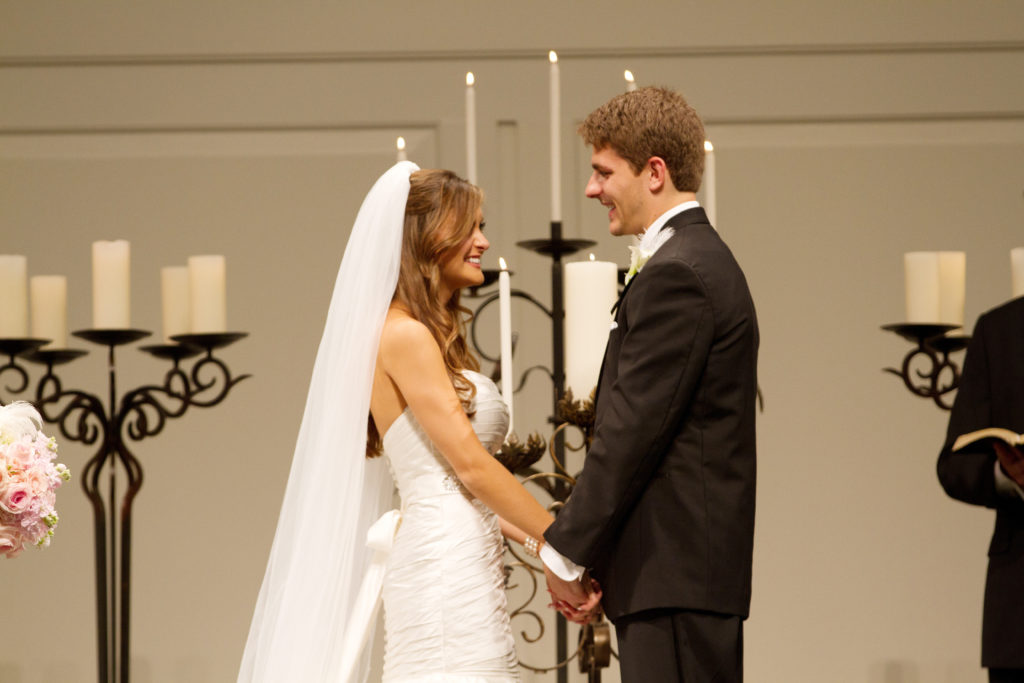 There's really so much more to our story than this, but here's a little glimpse. It's my favorite story to tell, and if you've made it this far, thanks for sticking around. We've shared bits and pieces of this with our close friends and family, but it was neat to get to write it all down here to share with you. Here's to our love story and to watching it continue to unfold.
Xo,
Courtney
& remember: every relationship needs a little grace and a little love. Okay, maybe a lot.
"So it's not gonna be easy. It's going to be really hard; we're gonna have to work at this everyday, but I want to do that because I want you. I want all of you, forever, everyday. You and me... everyday." - The Notebook
"You are my best friend as well as my lover, and I do not know which side of you I enjoy the most. I treasure each side, just as I have treasured our life together." - The Notebook