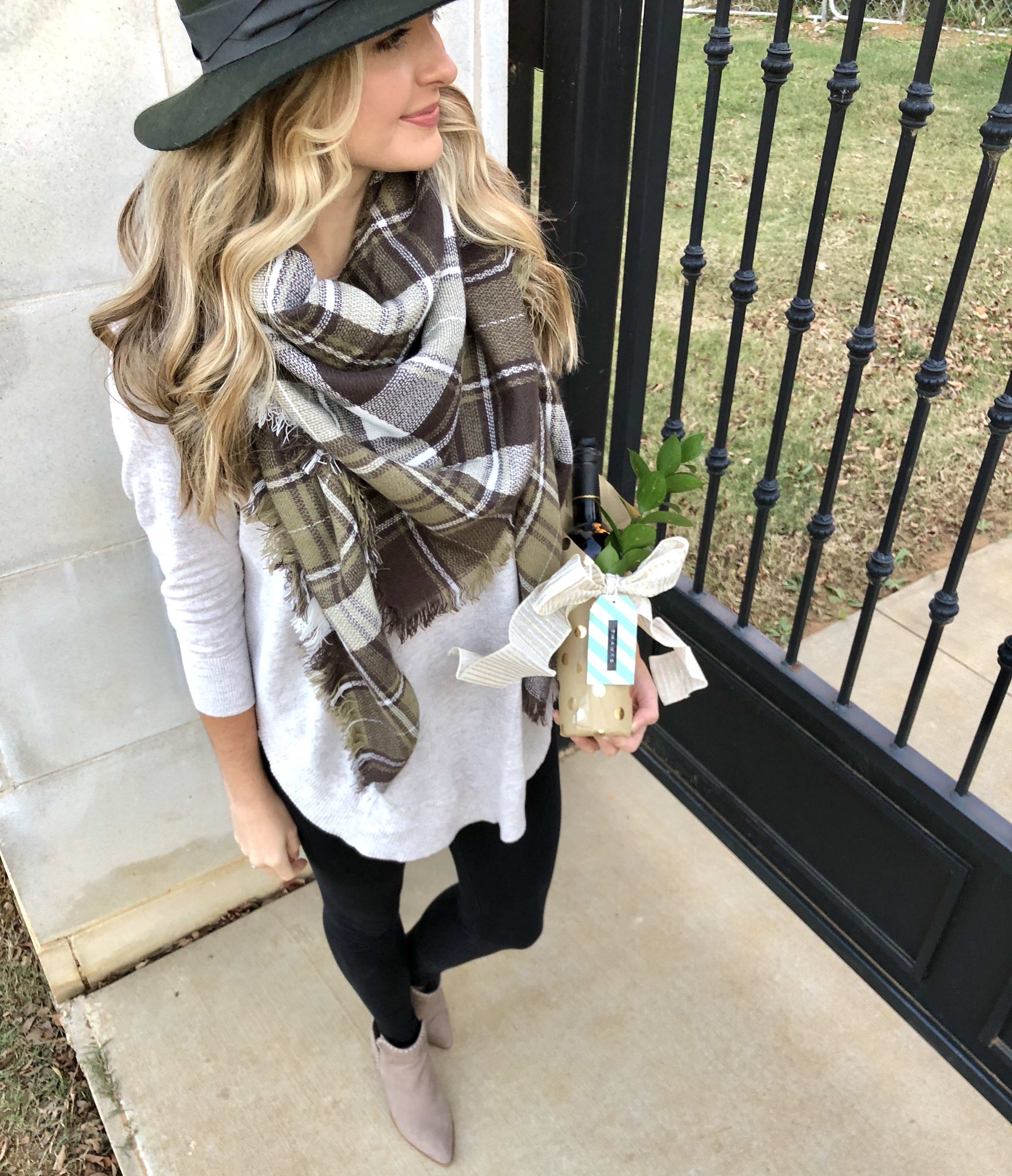 ---
LOOK NO. 1
---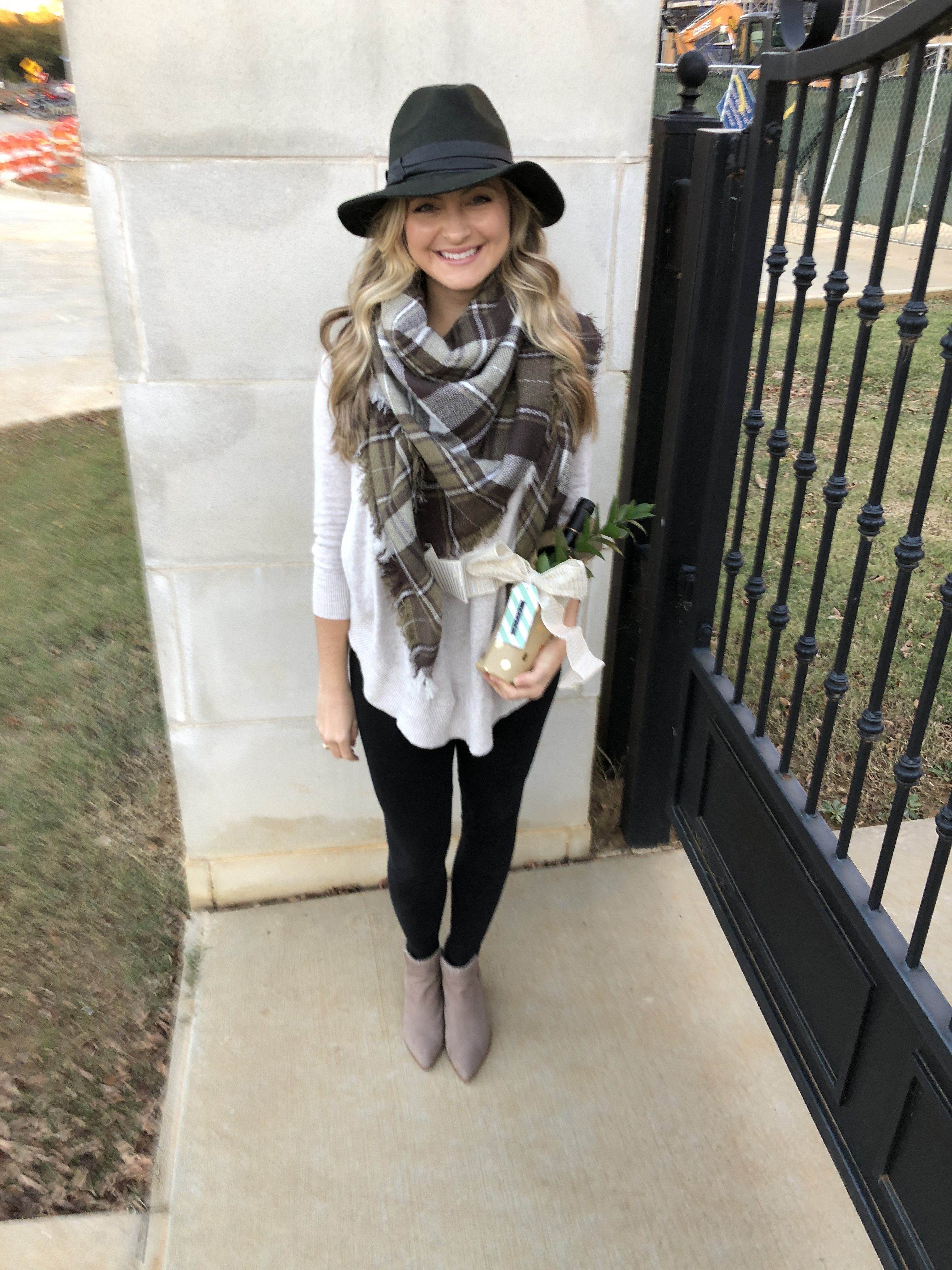 So for Thanksgiving every year I'm looking for really just two things when I'm thinking about what I want to wear. 1) something comfortable and that has room to grow with me 2) but also something that looks put together and cute. Before we dive into the details, let's get one thing straight:
Leggings ARE pants IF you cover your front and backside.
And all the people said AMEN. It's a simple rule. Follow it and maybe we can get the naysayers off our backs. Who's with me? Because I don't know about you, but they are the next closest thing to pajama bottoms and they're about the only pant I can think of that I'd want to wear on a national holiday where we all stuff our faces, stomachs expand, and pass out from all the carbs, sweets, and turkey. Not to mention the cheese trays before the meal, desserts after the meal, and wine the whole time.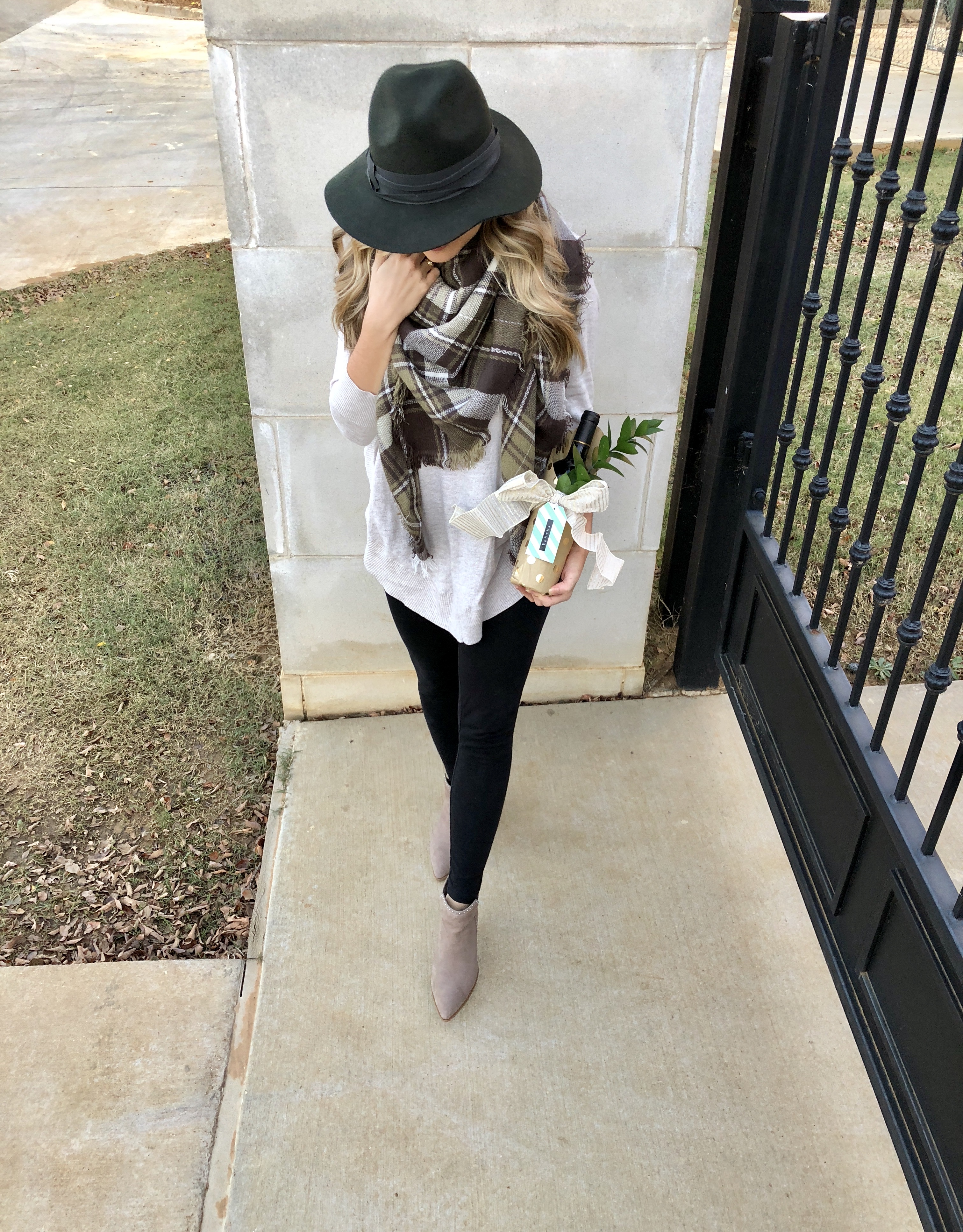 Universal Thread Olive Panama Hat | Scarf: Target Dollar Spot; Similar Option | Express Circle Hem Tunic Sweater | Leggings | Sole Society Dalphine V-Cut Bootie, in Porcini 
You probably don't have these exact pieces in your closet, but I'm sure you have something similar. To make it easy for you, think of it as some sort of formula.
---
OUTFIT FORMULA:
---
a flowy top +
black leggings +
a plaid blanket scarf +
a panama style hat +
 your favorite pair of booties 
And there ya have it. Comfortable + Cute. Check, check. You could do without a hat if you want but it really does elevate the whole look and pulls everything together.
---
A SWEET LITTLE HOSTESS GIFT
---
(bonus >> and you probably already have everything you need at home #winwin)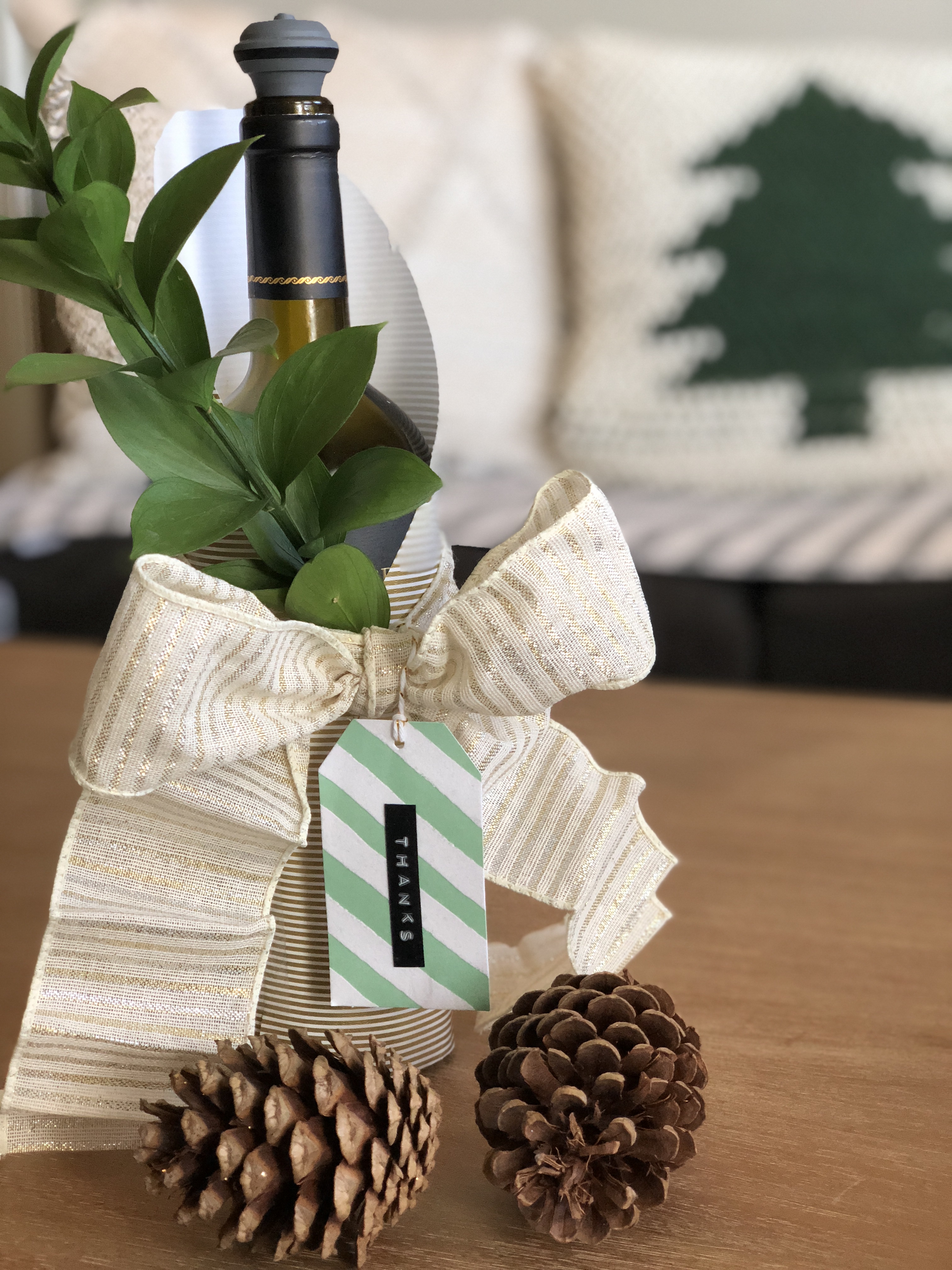 ---
WHAT YOU NEED
---
a bottle of wine
pretty wrapping paper
ribbon, with wire
a tag
a single stem of greenery
---
WHAT TO DO
---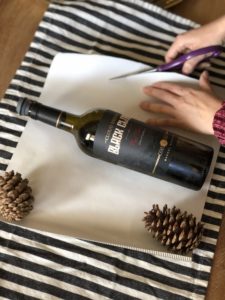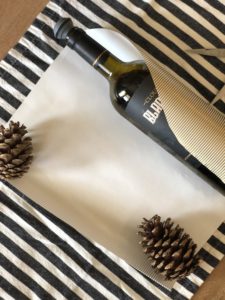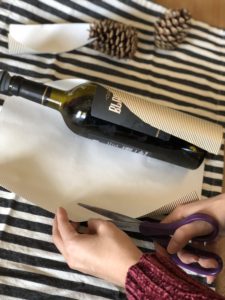 This all came together in about 15 minutes and I was so happy with how it turned out. What I love most about it is that you probably already have these items at home. No need to rush to the store. Just use what you already have! I am a sucker for making things pretty and I love to wrap and get creative with all the tags, ribbons, labels, etc. If you're headed to a Friendsgiving or to a family member's home for the Holidays, here's a cute DIY you can easily put together with a bottle of your favorite wine or one you happen to have on hand. It's a thoughtful and creative way to say thank you.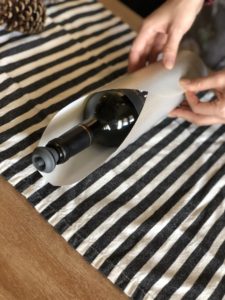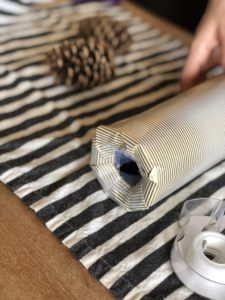 You need just enough wrapping paper to completely reach both sides of the wine bottle. I cut mine into a square. Then, you'll want to create an arch on both sides like the pictures above. One side should overlap the other, then secure with tape.
Cut and tie ribbon into a bow. If you want, you can create an accordion look to the ends by folding it back and forth.
Either use a label maker like this one or write "Thanks" or a cute note in your best handwriting.
Add a single stem of greenery and you're done! This was leftover from a bouquet of flowers my husband surprised me with a few weeks ago. You could go out into your yard and clip some greenery off from a tree or bush. Or find 2-3 pretty fall leaves and you're good to go!
If it's for Christmas, it'd be cute to pick out an ornament and tie it around the bottle. You could add a gift card too!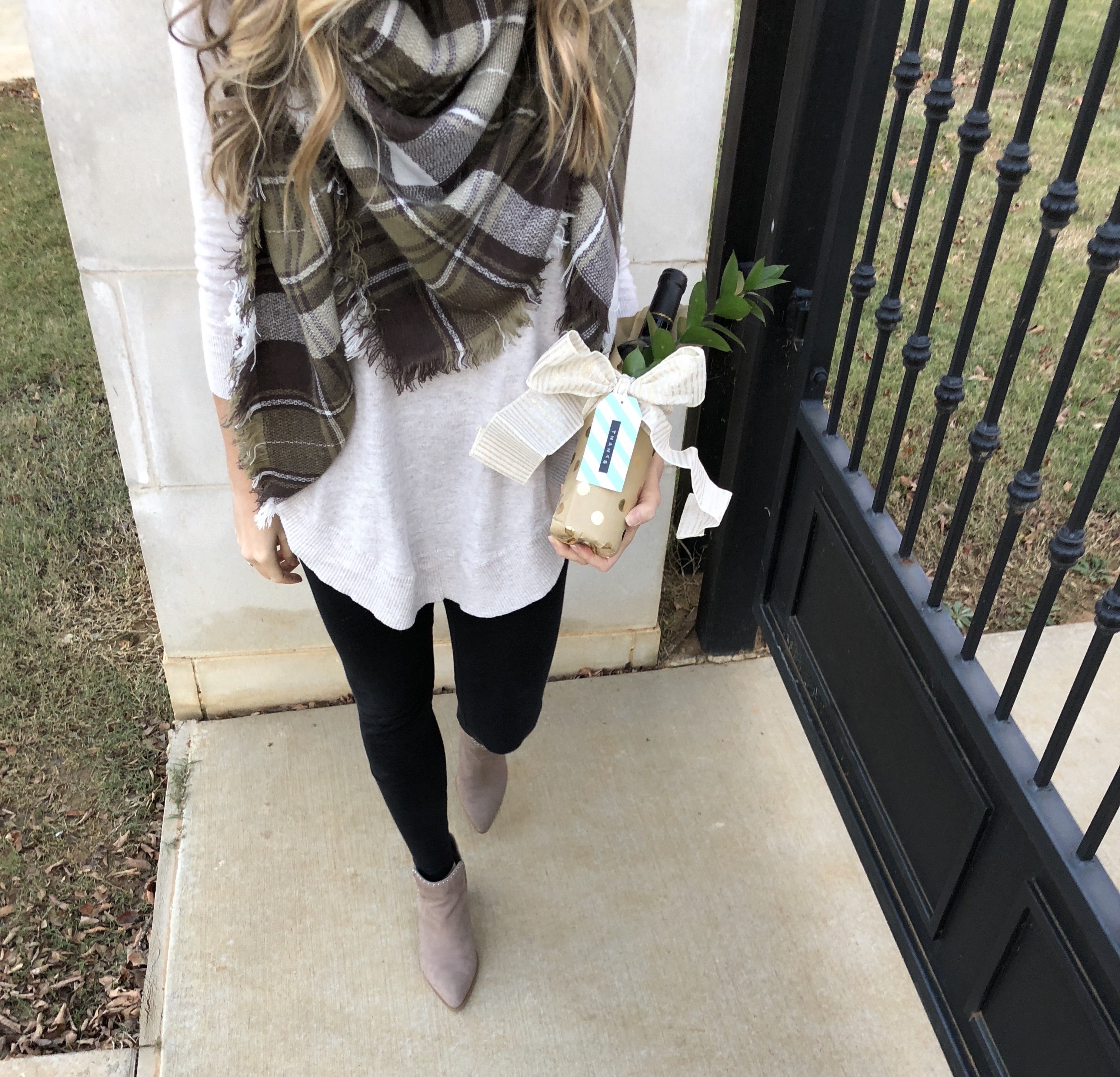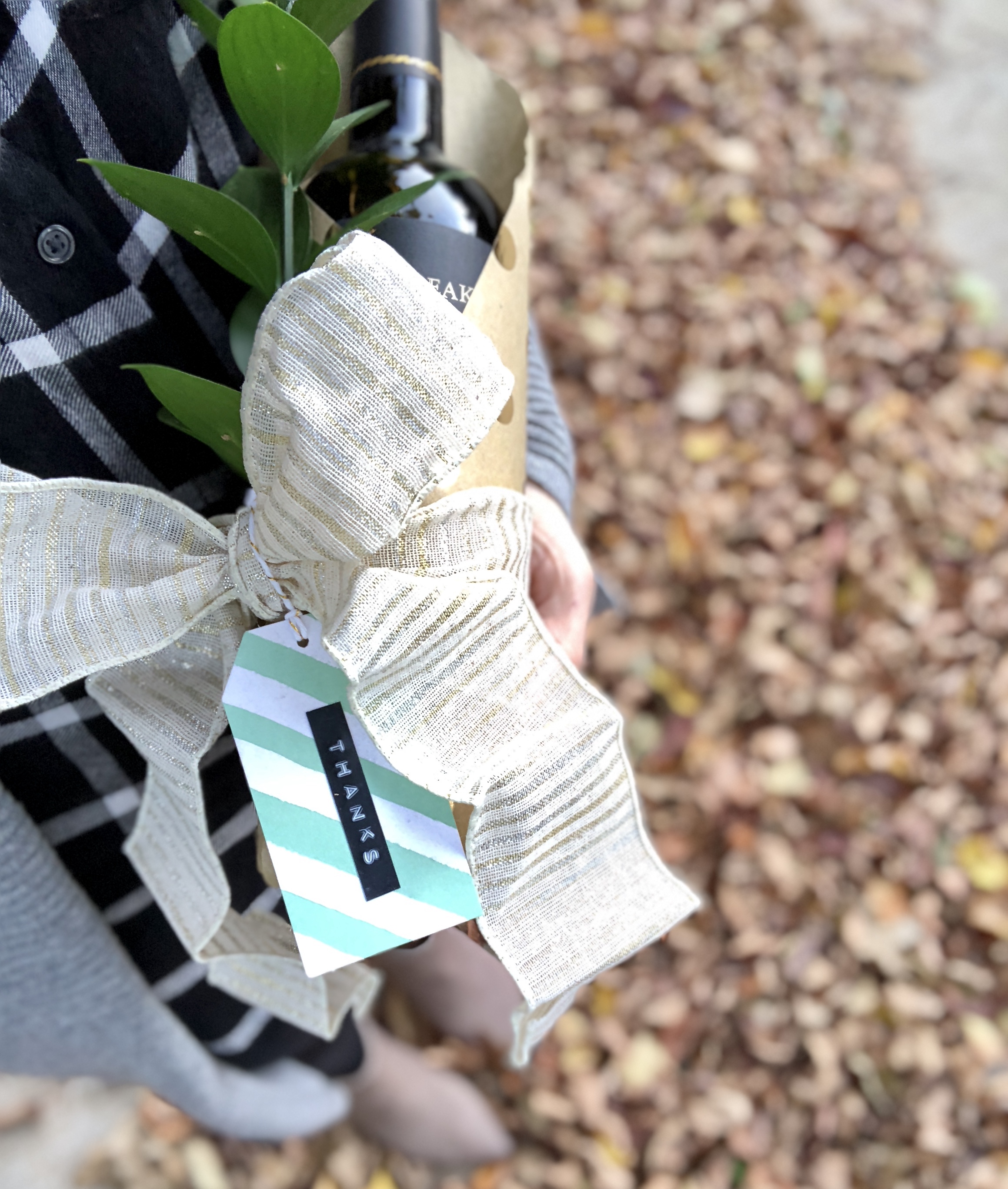 Sources: wrapping paper (last year) and ribbon (this year), Hobby Lobby | tag, Target $ Spot (last year) | Dymo Organizer Xpress embossing label maker, under $10 from The Container Store
---
LOOK NO. 2
---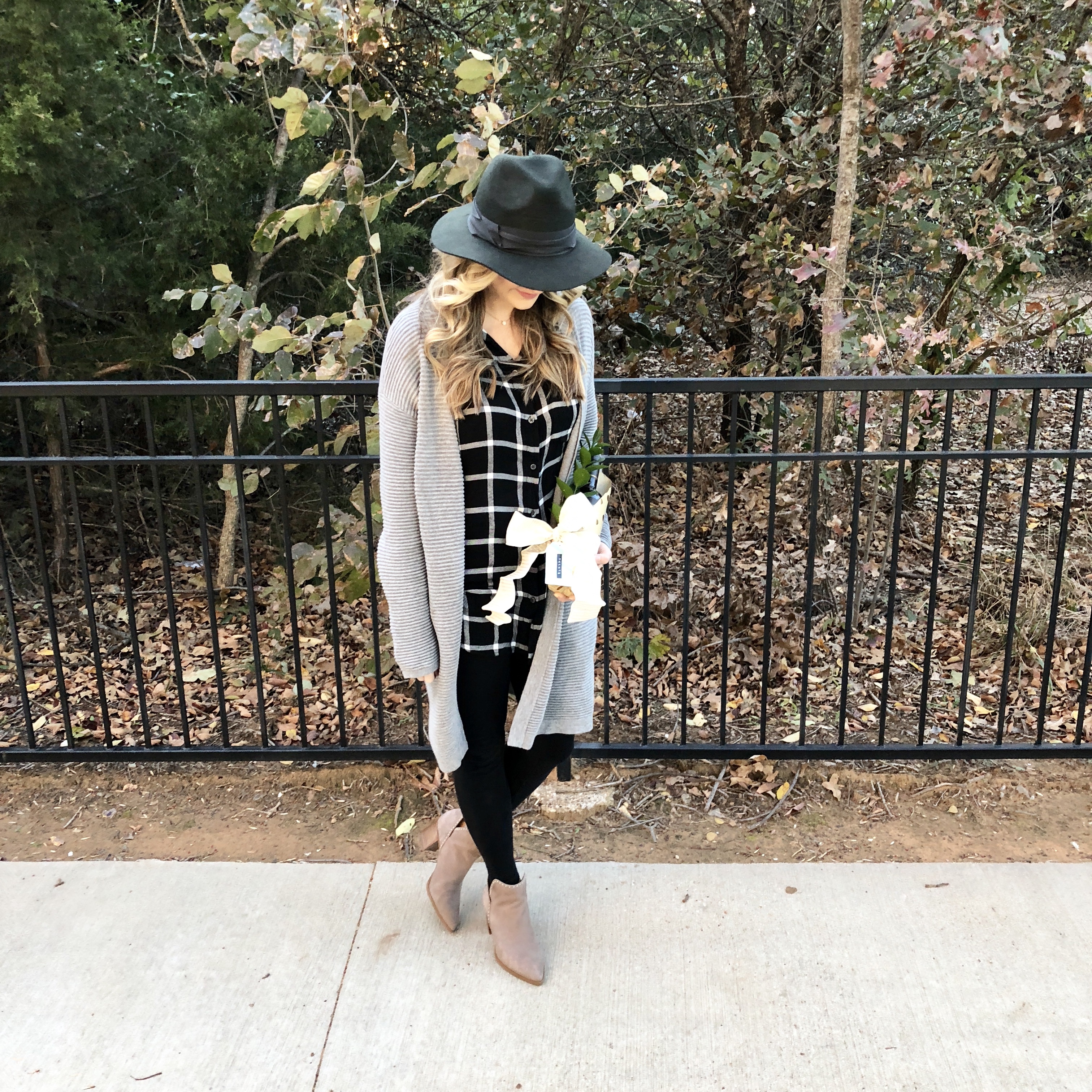 Universal Thread Olive Panama Hat | Similar Old Navy Plaid Flannel | H&M Rib-Knit Cardigan, also comes in black  Leggings | Sole Society Dalphine V-Cut Bootie, in Porcini 
For Look # 2 I kept everything the same except here I'm wearing a plaid shirt with a long oversized cardigan on top.
Hopefully these two options give you some sort of inspiration. I hope you have a Happy Thanksgiving filled with your favorite pie (are you a apple or pumpkin fan?), that you laugh until you cry and have a simply wonderful time with your family. If you happen to put together looks similar to these, I want to see them! Send me a message on my instagram account. Here's to our leggings expanding and maxing out that heaven-sent little band that allows them do so.
Gobble 'til you wobble.
Xo,
Courtney